Rommel Alim Abitria
2008 JusticeMakers Fellow, Philippines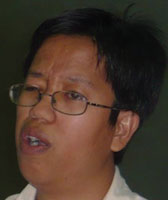 Rommel believes that there are simple, practical solutions to some of the gravest matters. During a prison visit, he determined that a group of inmates were being detained without sufficient charges.  In a straightforward manner, Rommel spoke to the warden and convinced him that the detention was unjust. The warden wrote a letter to justice officials and in three days, by virtue of an order of the court, the inmates were released. Rommel realized that being diplomatic and working in partnership with government agencies was the most effective way to assist incarcerated individuals, who would otherwise languish in prison for weeks or months due to inefficient court administration.
Rommel's passion for the rule of law developed while in law school. As a student he worked at non-governmental agencies that focused on the needs of Filipino community and environmental rights. He received his Juris Doctor degree from Ateneo de Manila Law University School of Law in Makati and was admitted to the Philippine Bar in 2004, after which time he went on as a legal consultant for the World Wide Foundation.
It was during his internships with various NGOs that he saw that he could bring real change to the lives of marginalized persons. He has seen systematic challenges in the delivery of justice, simply because the vulnerable men, women and children cannot afford to be properly represented by a lawyer. He remembers the plight of a family friend that was in jail for months, unaware that he could post bail. It wasn't until the friend sought Rommel's help that he was able to secure his release.
This  experience made Rommel realize that there were many others like his friend who were, because of their economic situation, not only powerless to demand legal protections, but also unaware of their rights. This moved Rommel to join the Humanitarian Legal Assistance Foundation.
One of the foundation's projects has been to teach inmates the necessary laws and court procedures.  Then,  their peers in detention can solicit the help from these newly-trained paralegals to efficiently pass through the justice system. (For more on Humanitarian Legal Assistance Foundation, see: http://main.hlafphil.org.)
The Problem
Mandaluyong City Jail holds inmates and detainees undergoing trial — those presumed innocent until proven guilty. Despite this presumption, the inhumane conditions of the jail cause inmates to suffer. The cells, which are meant for 20 inmates, often hold more than 50. The budget for food for each inmate is less than a dollar a day. Most inmates cannot afford the $500 bail; thus, they are can remain in these conditions for years as delays push back their trial dates and the lack of public defenders leave them at the mercy of the malfunctioning system.
The Innovation
Rommel is using his $5,000 JusticeMakers Fellowship to alleviate the problems found in city jails — slow trials, lack of inmate programs, and prison congestion — by training inmates to become paralegals. Through training, these inmates can provide a valuable resource to their peers in detention who lack knowledge of the criminal justice system. By establishing an alternate method of accessing justice, Rommel has create methods of pursuing the stagnant cases of neglected inmates, with the ultimate goal of speeding up trials and alleviating prison congestion.