Franck Kamunga
2008 JusticeMakers Fellow, Democratic Republic of Congo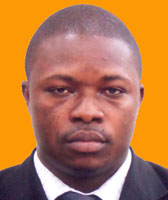 As a lawyer working to repair the criminal justice system in post-conflict Democratic Republic of Congo, Franck Kamunga has heard numerous accounts from women who had been raped and abused, sometimes at the hands of those who were tasked to protecting them — as was the case of the UN peacekeepers found to be sexually abusing minors in 2005. The precarious situation that women and children face in DRC has been broadcast to the world, yet very little had been done. However, Franck has dedicated much of his work as a lawyer fighting for their cause.
Franck studied International Public Law and International Relations at the University of Kinshasa and earned his masters degree in Democracy, Diversity, Development and the Rule of Law from the University of Cape Town. He also studied at the New School University in New York and was a visiting Fellow at Stanford.
In 1998, his involvement with the non-governmental organization Femmes et Enfants pour les Droits de l'Homme focused on providing legal support and humanitarian aid to families who were victims of violence. He continued to work in criminal justice as Executive Director at Droits Humains Sans Frontiers and as a legal advisor at the Independent Electoral Commission. During the last general elections in 2006, he collaborated with the police to fight against the use of torture and women's abuses by providing hotline numbers to victims where they could receive information and help, which would be the seed for his project idea for JusticeMakers.
He is a coordinator at the Africa Democracy Forum, a regional network made of over 400 non-governmental organizations dedicated to working for democracy and human rights.
Though DRC is in the midst of post-war transition and rampant with unchecked systems, Franck is confident that the country's criminal justice system will make significant headway in the next few years and continues to make self-sacrifices to help it get there. Despite the stress from his work – particularly from the embittered recollections by the women he helps and the dangerous situations he has been put in – Franck perseveres, mindful that helping society's most vulnerable paves the way to building better, safer and more peaceful communities.
The Problem
The Democratic Republic of Congo suffers from a corrupt and abusive national police force whose first response is to arrest and arbitrarily detain individuals for months, unless persuaded otherwise by bribes.  Many police officers have been recruited based on ethnic and political association and lack the training necessary for fair judicial services. Women are the most frequent victims to this corrupt system, and are often abused and unable to find legal assistance.
Results
While Franck has been diligently advocating for women in DRC through the justice system, he also created more systematic way for women to seek help. Franck set up a legal aid clinic to assist, monitor and advocate for women's rights in police stations in Kinshasa.  Using data he has collected on police brutality and human rights offenses against women, he  published a bi-monthly journal that publicizes cases of abuse and arbitrary detention that ultimately hold the police accountable for their actions.  He  also set up a free text messaging service that connects pro bono lawyers with victims as soon as they are arrested to prevent torture and arbitrary detention.