Robert Kibaya
2008 JusticeMakers Fellow, Uganda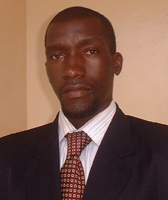 About Robert
Having grown up in a rural region of Uganda, Robert Kibaya has an intimate understanding of the problems facing poor rural communities in his country. He has seen that rural communities receive very little attention as compared to urban areas, and that villagers are underrepresented in most national development programs. Rural areas also lack access to information, and the poor are often marginalized due to their low levels of literacy. Members of rural communities lack basic education of the key issues that affect them. Because of his personal experiences, Robert has a deep passion for helping and empowering people in rural communities. In 2003, he established a NGO in his district called Kikwanda Rural Communities Development Organization (KIRUCODO), and it aims to empower villagers through skills development and training. Today, the community members themselves provide the majority of support for all the development programs in Kikwanda. They have learned that helping one another and working together as a team is the best approach for social and economic development.
Along with his experience with rural empowerment, Robert has a background in technology and biological sciences. In 2005, Robert moved to northern Uganda to spearhead the implementation of the ICT 4-Schools and Community project under Mission Harvest Ministries Africa. He also volunteered with the Department of Information and Communication of Disabled Women in Development, served as Coordinator for Community Water and Sanitation Policy monitoring, evaluation and advocacy under Uganda Domestic Sanitation Services, and was a general volunteer for To Love Children.
Robert's commitment to rural empowerment and development has also led him to participate in a number of international training programs, such as a three month Global Educational program in Japan, a training workshop in Information and Communication Infrastructures for Rural areas in Africa under UNIDO Nairobi-Kenya, and a five day training workshop in Accra, Ghana in Information Production with Satellite Receivers organized and sponsored by CTA. Robert also has experience in human rights and criminal justice, stemming from his participation in a seminar on Challenging Impunity of Sexual Violence by A.C.O.R.D, and his work as a penal organizer for the World Conference of Humanitarian Studies.
Locating the Problem
In Uganda's rural regions, access to justice is almost nonexistent due to the great distance between criminal justice providers and the rural communities. Although many women and children in rural areas suffer hardships like rape, harsh treatment, and property rights abuse, most of these cases are never reported to the police nor presented in court due to lack of awareness about where to report injustices and how to present cases for judicial action. The problem is exacerbated as villagers in rural areas are illiterate and have difficulty understanding complex legal documents and procedures. Moreover, since they are poor, rural community members also face a disadvantage against the rich, who often bribe law enforcement personnel to advance their cases.
Innovation
Robert is using his $5,000 JusticeMakers Fellowship to establish the Rural Communities Criminal Justice Awareness Project (RCC-JAP). This will be done through the creation of two Community Criminal Justice Monitoring Committees at the village level. Committee members will be trained with basic criminal justice skills and will conduct workshops and awareness campaigns to inform indigent villagers of who to contact if they experience an injustice, and how they can present their cases through legal channels. Robert will also establish an information resource center in his community, Kikwanda, where villagers can access contact information for the nearest legal aid lawyers, police stations, and courts where they can present their cases and gain legal advice. Villagers in need of help will be immediately put in touch with lawyers who can defend his or her rights before or after arrest. Lawyers will also visit the center weekly to assist in solving community members' legal problems. The center will reduce the barriers of great distances and expenses that villagers normally face while seeking access to justice.
Results
Robert's project revolved around curbing police violence and corruption, specifically focusing on the rural communities and evaluate criminal justice procedures. Many members of the rural communities are often overlooked. Many are illiterate, economically powerless, voiceless and live in fear of police and arrest. Basic human rights for women and children are often violated and trips to the police station to report are out of the question due to financial constraints. In addition, the cost of lawyers are another obstacle. However, Roberts knows that when given basic legal/human rights training people gain confidence and show a true desire to learn. In an effort to get a more well rounded picture of the situation Robert and his team made visits  to police stations other governmental institutions. During these visits Robert found that many don't extend services to rural places because of limited resources, such as enough vehicles, and support of government.
Robert was able to accomplish many great activities throughout the course of his fellowship. Robert was able to facilitate dialogues between multiple groups that make up the community, including the police, children, local council leaders and lawyers. The dialogues worked to dismantle barriers between the community and the police and other governmental institutions. Although there were some difficulties with local council leaders, in the end Robert and his team were able to establish working relationships with different district departments such as the Residential District Commissioner and the District Labour Office.
He created a community resource center which offers the public a safe space and access to free information on human and legal rights any time they needed it. A common problems includes various marginalized groups who are not aware or knowledgeable on what laws protect them and what rights they have. His lawyers worked on 6 land cases which served as a platform to inform the public on law surrounding property and how to handle the legal process if a situation were to arise.  They also dedicated time holding a workshop on domestic violence involving the community, local council leaders, lawyers and policy analyst, Dr. Esther Namukose Muwanguzi, from the Uganda Women Parliamentarian Association.