Ram Kumar Bhandari
2008 JusticeMakers Fellow, Nepal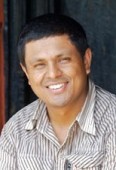 About Ram
When hundreds of people from Lamjung disappeared during the Nepal armed conflict in 2001, family members, desperate for answers, retaliated violently against the newly installed Maoist government. However, Ram Kumar Bhandari, whose father was among the disappeared, felt that it was more constructive to seek answers through peaceful means. At the time of his father's disappearance in December of 2001, Ram was still a university student in Kathmandu. His father, a school teacher, had encouraged his son to be involved in social activism, and this encouragement became one of driving forces that compelled him to work within his community to bring about positive change. After receiving a BA in developmental studies and an MA in sociology, Ram worked in different sectors within the  country. He eventually returned to his local village in western Nepal where he witnessed the psychological trauma his family suffered was prevalent not only throughout his village, but within other villages where people never heard from, or about, their loved ones since their disappearance.
This  led Ram to create the Committee for Social Justice (CSJ), an activist organization that assists villagers in seeking information about individuals who have gone missing and helps families cope with their losses. CSJ has mobilised families to hold the government accountable for missing loved ones, and, perhaps most importantly, has led the formation of a community support group. Seeing the value in public dialogue and education, Ram became involved with the community radio, which he found to be helpful  with his mission to promote a culture of peace and social justice through understanding. Ram recognized that it is essential for local community organizers to be the voice for thoughtful discussions to bring meaningful change. To this day, Ram's and other families have yet to hear whether their loved ones are alive or dead. However, Ram continues to be a voice for his community, and the memories and words of his father's help him through the most challenging moments.
The Project
Ram used his $5,000  JusticeMakers Fellowship to identify the root causes of criminal justice challenges within the social context of the Nepali community. It also assessed the critical components that  facilitated  criminal activities in local communities and sought to obtain resolution though diverse activities to encourage justice reform. These activities included radio broadcasts, district level workshops, trainings for government and officials and police, street dramas, as well as advocacy, research and publications. Through these activities  Ram sought to provide legal rights education  minimizing confusion and mistrust surrounding the justice system.
Progress
Ram dedicated a lot of time and effort in tackling the root of the problem and developing interest from all members  of the community to become involved in creating positive change. Some of Ram's major achievements throughout the course of the project included the increase in public understanding of legal rights and the criminal justice system. This was due, in large part, to the activities he organized such as radio broadcastings, street dramas, and a school level essay competitions. Another important achievement was the start of the much needed conversation with the police about torture and how to reduce their practices. Through workshops and training there is hope that the use of torture will decrease. Ram has had a great reaction from the community and believes this year as a JusticeMaker fellow has set the perfect foundation for future projects and progress. With demands coming from other villages, he hopes to expand his project in the coming years.
Today, Ram acts as head of NEFAD – the National Network of Families of Disappeared and Missing Nepal—a network of district based associations of families of the missing and disappeared in Nepal that aims to provide support, advocacy and relief for these people. NEFAD holds regular meetings in several districts across Nepal, and acts as a prime organizer of the yearly International Day of the Disappeared events in Kathmandu. It is rooted in the families themselves, who are regularly consulted on what the network does and receive regular feedback on its work."One of NEFAD's goals is to increase the awareness of Families agendas for peace and transition and to provide a space where family members can actively speak out against the human rights violations that they have suffered", says Erik Wilson, a journalist that worked with Ram during the implementation of his JusticeMakers Project.
Erik was an IBJ's photojournalism intern in Nepal during the summer and fall of 2009. During this period, he worked and traveled with Ram, supported Ram's project. They still remain close today and Erik wrote his masters dissertation on this subject as well as a series of newspaper articles. "The JusticeMakers project has been perhaps one of my most formative experiences. Working with Ram in 2009 opened my eyes not only to the difficulties that people face on a daily basis but also to the passion with which some people pursue noble causes"
As recognized by Erik Wilson, the implementation of the project was hard. This is especially true in light of the institutional problems, such as the political deadlock, the lack of time, and the lack of financial resources for the affected families to travel and join events. These issues were expounded by the general fatigue accompanying more than 5 years of fighting for this cause and seeing minimal progress at the national level.
Nevertheless, NEFAD and Ram have achieved miraculous progress and the community is stronger and more united now than ever before.  Unfortunately, this cause has not been captured and translated to the national agenda.
"Ram and NEFAD have a great deal of support among local people. He and the organization are seen as a legitimate and authentic voice, both because Ram's father disappeared and because he is not beholden to donor money/agendas/politics as are so many organizations that operate in Nepal. I remember one time specifically when we attended some meetings in Nawalparasi district where victims from the surrounding districts attended in order to discuss the issue of disappearance and the efforts that were being made to learn the whereabouts of their loved ones. They were captivated by what he was saying.", claims Erik.
*All the pictures are contributed by Erik Wilson. Learn more about his photowork in Nepal here
Update, January, 2016:  Below is an article for JusticeInfo.Net  written by Ram concerning the current situation in Nepal.                                                                                                                                                                      Transitional Justice in Nepal : Road to Justice or collapse ?