Malik Tahir Iqbal
2008 JusticeMakers Fellow, Pakistan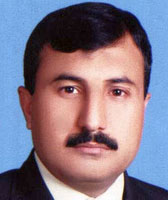 Tahir grew up in a hierarchical society where the rule of law and human rights didn't exist. It was his parents who fostered his belief system based on equality and justice. These ideas, otherwise unfamiliar in rural Pakistan, fascinated him as a child and culminated in a career in law and social activism. As a law student at Sindh Muslim Law College, Tahir would visit local jails with his class and saw the suffering of children in prisons, sometimes languishing in the same cells as adults and serious offenders. This ignited his passion for the rights of juveniles. As an advocate for their rights, he believes that they are entitled to certain basic rights: to live in a safe environment, to education, to health and for them to enjoy childhood.
Tahir has done social work since university. At law school, he was actively involved in student associations, including serving as president of his school's student union. Shortly after, he became involved with the Anjuman Talaba-e-Islam and Al-Mustafa Welfare Society following the major Pakistani earthquake in 2005. There he observed with earthquake victims and saw first hand how people suffered from the devastating affects of a natural disaster. This opportunity affirmed his interest in working to benefit society's most marginalized groups.
Tahir is aware of the gap that exists between the written law and the actual implementation of human rights legislation; often, juveniles and the indigent accused are the ones who are neglected by the system. He also knows that one cannot rely solely on the  government to deliver and protect the rights of his people.
With that reality in mind, Tahir founded the Legal Rights Forum (LRF) in Karachi in 2007. LRF was created to ensure legal protections for society's most vulnerable — particularly Pakistan's indigent accused and children.  A legal aid center powered by pro bono legal assistance, LRF has become well known in the Karachi area for providing effective defense for those who need it most. (For more on Legal Rights Forum – Pakistan, see: http://www.lrfpk.com.)
The Problem
Hundreds of children were languishing in Pakistan's prisons where they were exposed to malnutrition, denied an education, and held without access to legal counsel. The establishment of a formal juvenile justice system was long overdue — due to lack of interest and shortage of funds.  Terrible conditions within the jails, few resources to help child detainees, and lack of financial support — the problems were pervasive and the need critical.
Results
Mr Iqbal visited several juvenile prisons and  was profoundly shocked by the conditions in which the children were living. They were tortured, humiliated and sexually abused everyday. It is for this reason that Mr Iqbal decided to open a Rehabilitation Centre where children could be informed of their rights.
In addition, Mr Iqbal and his team provided legal aid to eleven juveniles supporting them in different stages of their judicial proceedings. Moreover, 30 lawyers received training sessions on how to best provide legal aid.
The aim of the other part of the Project was to train lawyers about the importance of respecting the procedure to identify accused persons as well as to prepare an accurate medical report. These two procedures are both essential in order to ensure justice but unfortunately, in too many circumstances they have not been respected. Needless to say, the trainings organized by Mr Iqbal contributed in mitigating the aforementioned unacceptable situations. In total, more than 120 lawyers were trained. Other trainings were focused on basic IT skills which were fundamental considering that a significant number of lawyers were computer illiterate.
Lastly, some activities were specifically designed for children. For instance, there was a competition where the best drawing and essay were awarded. There were two main objectives: firstly, to give children the opportunity to express their self and secondly, to analyze their drawings with the collaboration of a psychiatrist.
In the future, Mr Iqbal and his team intend to continue working on the Project of protecting the rights of juveniles in a larger geographical area.