Patrick Chukwudi Dunkwu
2008 JusticeMakers Fellow, Nigeria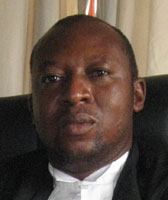 About Patrick
When Patrick's father was detained for six months without a trial date, Patrick and his family relied on the assistance of a legal aid lawyer to helped secure his release. Seeing first hand the inefficiency of the Nigerian criminal justice system and the disastrous effects of it became a life-altering event that compelled him to study law and work towards building a more effective criminal justice system in his country. Patrick studied history and education with an emphasis on educational psychology and counseling. Afterwards he attended Nigerian Law School in Abuja and upon completing his legal degree, worked as a legal aid lawyer at a civil rights NGO where he defended those who were victims of human rights violations. He later joined the Human Assistance Initiative as a program director overseeing projects relating to legal protection, human rights and democratic development. In his work he had come into contact with many individuals who were detained by police for years without trial. Often times, detainees go days without their families being notified that they are being held. Given the plight of inmates sitting in overcrowded prisons, Patrick envisions a more efficient Nigerian prison system free of congestion.
In Lagos, Patrick did a needs-assessment of the state of lower court judges in Lagos and eventually created a judicial training program for judges to be more aware and sensitive to issues of human rights. His work as a lawyer has focused on indigent persons. With the encouragement of his mother, who often reminds him of the gratitude they have for the legal aid lawyer who took on his father's case, he takes on pro bono work, and sometimes she can be found in court proceedings.
Locating the Problem
Although Nigeria's constitution says that an arrested criminal defendant is entitled to inform his lawyers and family about his arrest, this is rarely the case.  Police often make arrests and secretly charge suspects without allowing them access to their lawyers or notifying their families.  Additionally, many of these suspects cannot afford a lawyer.  As a result, criminal defendants are unrepresented and end up in overpopulated prisons and without legal support for years, even decades.
Project
Patrick sought to ensure early legal counsel for indigent criminal defendants by using mobile phones to link lawyers and paralegals with defendants who have been recently arrested or sentenced. By stationing volunteers at courts daily, these volunteers were  able to speak with prisoners and call their lawyers or family members early enough to prevent the suspect from being sent unnecessarily to prison on remand custody.
Results 
Main achievements throughout Patrick's project revolved around improving access to justice, in particular for the disadvantaged, and releasing innocent defendants from unlawful custody. His project expanded to not only improving access to legal aid to defendants but he also worked tremendously in raising community awareness about rights and how to protect from unlawful arrest. Through collaboration between him and the police Patrick and his team were successful in addressing hostility and reducing tension between officers and the legal team. They visited more than 20 police stations in Lagos to offer immediate legal support to arrested criminal defendants during the project period. They also filed cases in court of criminal defendants who were arrested unlawfully by the police. In addition, they succeeded in conducting legal and human rights training programs for paralegals and member of the community succeeding in raising awareness on legal aid and human rights. Also, in partnership with the Nigerian Bar Association, they worked with  lawyers and promoted the need for more pro bono services. The JusticeMaker fellowship also allowed them to connect with a wider range of NGOs working on similar projects.
"My JusticeMakers Project gave me a great opportunity to realize my dream of putting in place a sustainable platform to fight for the rights of indigent criminal defendants, as well as an opportunity to build a sustainable partnership with state and non-state stakeholders in my work as a human rights defender." Patrick hopes to continuing securing funds to help maintain the progress he has been able to achieve as well as build upon.